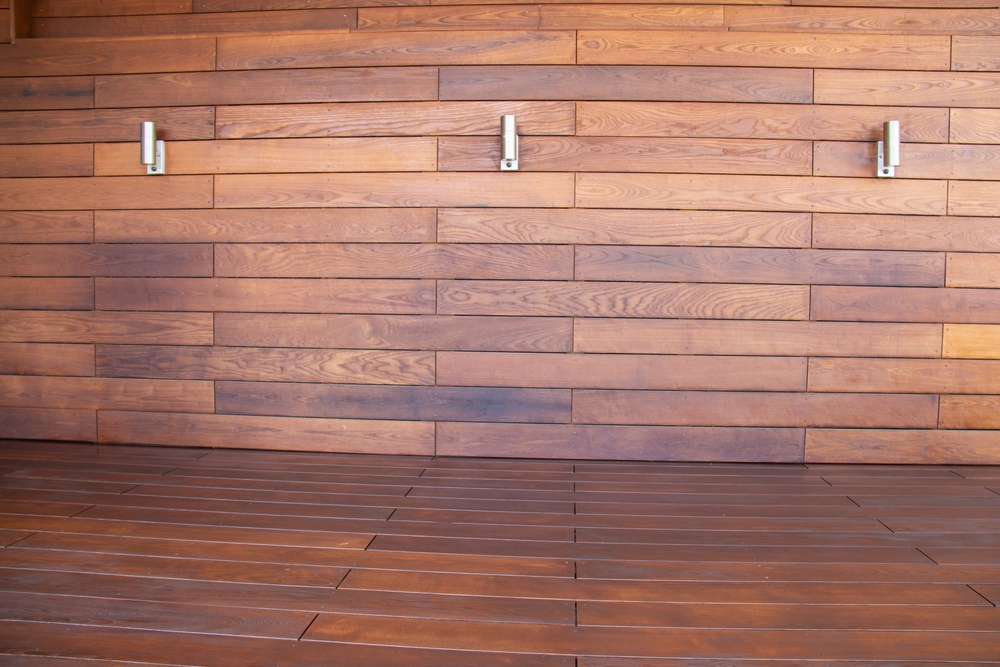 5 Hot Trends in Thermally-Modified Wood Applications
The lumber industry is no stranger to innovation, and one of the most exciting developments in recent years is the rise of thermally modified woods. These remarkable materials are revolutionizing the way we think about wood, offering unmatched durability, aesthetic appeal, and ease of use.
In this blog post, we will delve into the world of thermally-modified woods, exploring their history, benefits, and current trends.

What Are Thermally Modified Woods?
Before we dive into the exciting applications and benefits of thermally-modified woods, let's take a closer look at what they are and how they are created.

History of Thermally Modification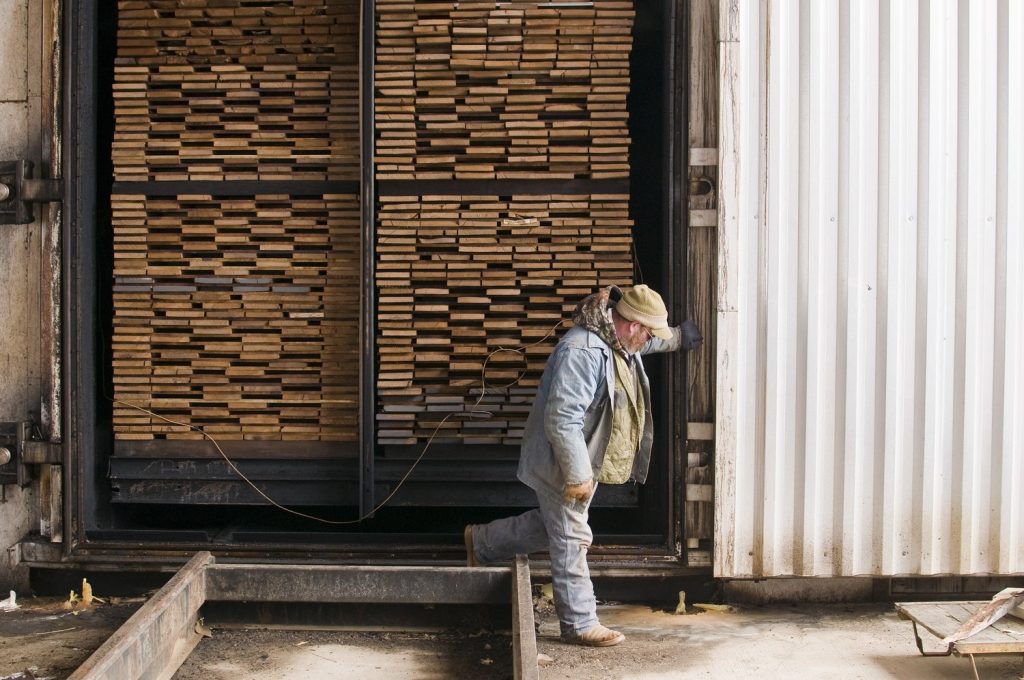 The thermal modification process is not a new concept around the world, but it has gained significant traction in recent years due to its innovative approach. This process effectively brings technology to a commodity—wood—and transforms its physical properties, making it more akin to tropical hardwoods, like ipe, cumaru, and garapa. What was once considered a traditional material has now been elevated to meet modern demands for durability, sustainability, and aesthetics.
Today, thermally-modified wood is not just a niche product; it has become commercialized, readily available, and widely adopted across various industries. Architects, designers, and builders are increasingly turning to thermally modified wood to meet the growing demand for sustainable and visually-appealing materials that stand the test of time.

As this innovative material continues to evolve and adapt to the needs of modern construction and design, it's safe to say that thermally-modified wood is here to stay. Its ability to combine the natural beauty of wood with enhanced durability and environmental consciousness is reshaping the way we think about and use this age-old building material. So, whether you're designing a cozy sauna or transforming your outdoor living space with a stunning deck, thermally modified wood is the smart choice for a sustainable, beautiful, and enduring solution.
So, where did thermally-modified wood get its name? Thermally-modified woods undergo an innovative heat treatment process that involves subjecting wood to high temperatures in a controlled environment, without the use of chemicals.
The result is a wood product with altered physical properties—not chemical—that has enhanced durability, stability, and biological resistance compared to conventionally comparable woods, such as cedar, cypress, and non-thermally modified yellow pine. Even more, thermally-modified woods boast a beautiful finish characterized by their striking homogeneity, a quality unattainable with traditional woods without the application of a paint or stain. Thermo woods eliminate this arduous task for the buyer!

Benefits of Thermally Modified Wood
Thermally-modified wood offers a range of advantages that make it a top choice for various applications. These benefits include:
Weather resistance: Thermally-modified wood can withstand different weather conditions, making it ideal for outdoor use.

Sustainability: Any waste produced is organic and biodegradable because the woods are devoid of any chemicals.

Rot resistance: Thanks to the thermal modification process, thermo woods are highly resistant to rot and decay, ensuring a longer wood lifespan and less headaches for the owner.

Termite resistance: Because 95% of the moisture and sugar is removed from the wood during the heat treatment process, termites are not attracted to the wood, reducing the need for chemical treatments or difficult maintenance procedures.

5 Exciting Thermally Modified Wood Trends
Now that we've explored the fundamentals of thermally modified wood, let's take a closer look at five exciting trends in its application:
1. Saunas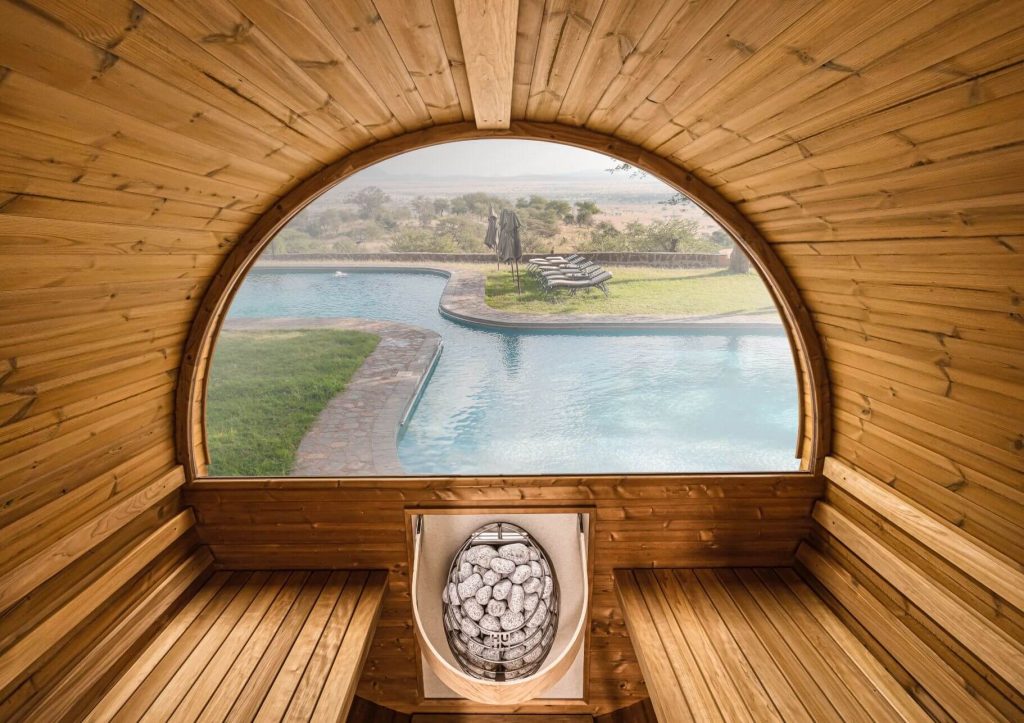 Thermally modified wood is an ideal choice for sauna applications, and Platino-Thermowood ayous, in particular, shines in this regard. Because thermo woods undergo a transformative process during thermal modification, a significant amount of the original wood's moisture and sugar is removed, altering its physical cellular structure. This unique combination results in wood that is exceptionally stable and durable, making it perfect for the high-moisture environment of saunas.
Unlike traditional softwoods, Platino-Thermowood ayous is not susceptible to rotting or molding when constantly exposed to high moisture levels. Its resilience and longevity ensure that saunas built with this remarkable material will not only offer soothing warmth and comfort but also stand the test of time, providing a safe and enjoyable experience for years to come.
2. Siding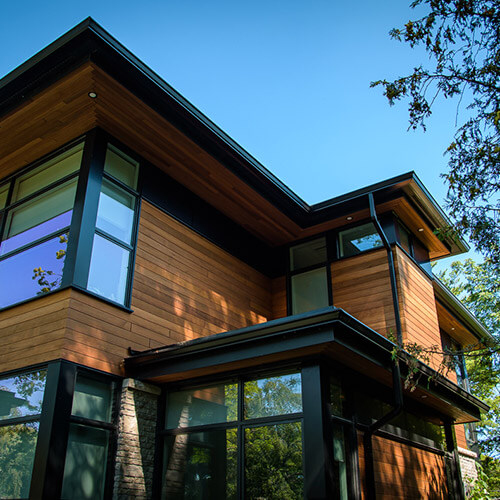 For an elegant and timeless look, designers, contractors, and architects are using thermally modified wood in siding applications. A great species for siding applications is Platino-Thermowood ash, which combines an American-favorite hardwood (ash) with exceptional durability, meticulous milling, and an easy installation due to the heat treatment process.
Thermo ash's rich color and exceptional physical properties make it a fantastic choice for enhancing the exterior of homes, resorts, apartment complexes, and commercial buildings. Specifically, the long-lasting performance and ease of installation make it a top pick for siding projects.
3. Sunshade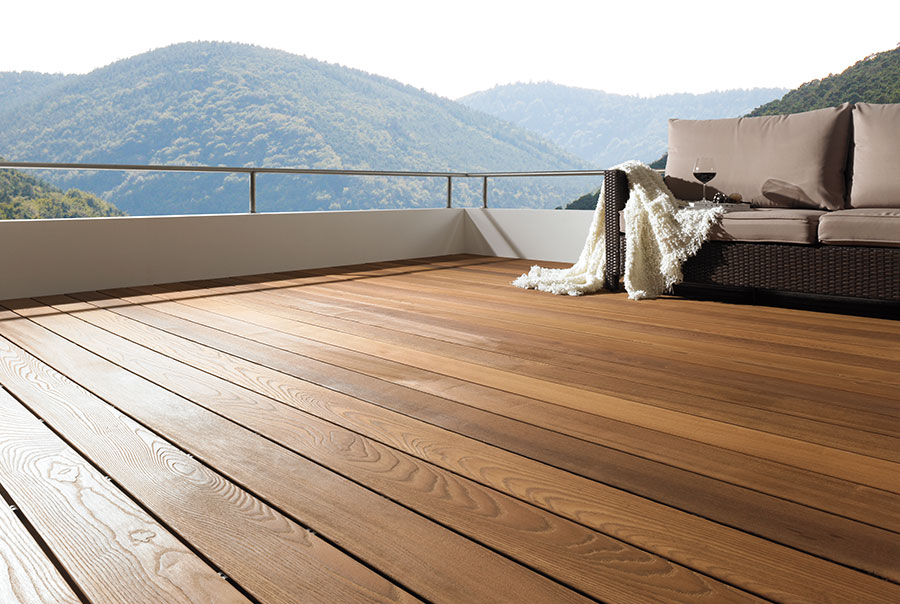 Another innovative and functional way to incorporate wood while protecting loved ones and guests from harmful UV rays is with a thermally-modified sunshade. These structures provide shade and aesthetic appeal, making them ideal for patios, gardens, and outdoor seating areas. They are lightweight and easy to install, adding both beauty and functionality to your outdoor landscape.
Similar to tropical hardwoods like ipe, cumaru, and garapa, thermally-modified ash, pine, and ayous will fade into a gray color with exposure to the sun. But, this color can be reversed with consistent oiling every 6 months to 1 year, depending on the level of sun exposure.

4. Ceiling
When it comes to ceiling applications, thermally-modified wood offers a blend of beauty and functionality that's hard to match. Platino-thermowood ash, ayous, and pine can all be used for ceilings! Thermowood's natural warmth and elegance bring a touch of the outdoors to interior spaces, creating a cozy and inviting ambiance.
Since ceilings do not come into contact with sun exposure, the wood will keep a similar color from when you first installed it, making maintenance a minimal part of your backyard's upkeep. And, the thermal modification process enhances the wood's stability and resistance to environmental factors, making it an excellent choice for ceilings that may come into contact with rain.
Whether you're designing a rustic cabin or a modern urban loft, thermally modified wood ceilings add character and charm to any room. With minimal maintenance requirements and a long lifespan, these ceilings are a practical and visually-striking choice that can transform the look and feel of your outdoor living space.
5. Accent Walls
Accent walls are the perfect way to add a striking visual focal point to any room. They offer a unique opportunity to infuse personality and style into your space, transforming it into a captivating masterpiece. Designers are taking advantage of this application for both interiors and exteriors, exemplifying thermally-modified wood's application versatility.
Whether you're aiming for a rustic or modern look, thermally modified wood accent walls can transform any space, making it feel warm and inviting. You, as the designer, architect, contractor, or homeowner, can choose what type of vibe you want to create by getting custom milling done to the woods. Platino-thermowood pine, ash, and ayous can all be used for enhancement walls.

Brazilian Lumber Los Angeles: Your Source for Exceptional Thermally-Modified Wood
When it comes to thermally modified wood, Brazilian Lumber LA's Platino-Thermo Wood stands out in the market. Here are some key points that set us apart:
Decades of Experience: With over 20 years in the industry, we bring a wealth of expertise to the table.
IWPA Membership: We are proud members of the International Thermally Modified Wood Association (IWPA), ensuring that our production processes adhere to the highest standards.
Diverse Product Range: Brazilian Lumber LA offers three exceptional species: Ash, Ayous, and Pine, each with its unique characteristics and applications.
Warranty: We offer competitive warranties for our products, ranging from 15 to 25 years, depending on the species.
Low Maintenance: Our thermally-modified wood requires minimal maintenance, with occasional oiling for color-enhancement being the main upkeep.
Versatility: Our wood can be used both indoors and outdoors, offering endless possibilities for your projects.
As you've likely gathered by now, thermally-modified woods are making waves in the lumber industry, presenting a sustainable, weather-resistant, and aesthetically captivating alternative to conventional wood. Whether you're considering saunas, siding, sunshades, ceilings, or accent walls, thermally modified wood can elevate your outdoor and indoor spaces.