Small Backyards Design: 6 Secrets to Create A Mini Paradise
Small Backyards Design: 6 Secrets to Create A Mini Paradise
In the hustle and bustle of densely populated cities like San Francisco and Los Angeles, finding a house with a big backyard feels nearly impossible. But that doesn't mean you can't turn your compact or sloped outdoor space into a place that you can relax in, enjoy, and be proud of.

Small backyard ideas may require more out-of-the-box thinking and strategizing, but that shouldn't stop you from realizing the potential of your backyard! In this blog, we've curated a list of 6 creative and functional ideas to give your small backyard a more expansive, enjoyable feel and look.


6 Secrets To Transform a Small Backyard Into A Mini Paradise:
1. Create a focal point in your backyard with a pergola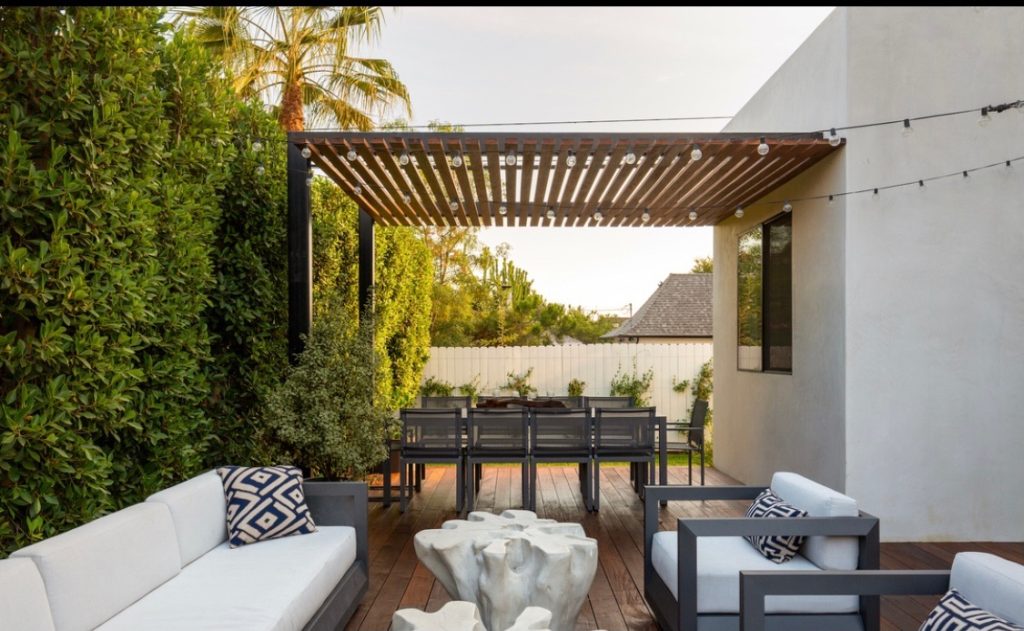 Not only does it draw your eye to one area of the yard, but a pergola also provides much-needed shade in sunny California. You want your family and guests to feel like the pergola is the center of your backyard because it can distract from the smaller size of your outdoor space.
The key to making your pergola the focal point of your small backyard is to strategically place it to entice people to gather around it, making your limited space feel larger than life. By integrating tropical hardwoods into your pergola, such as ipe, garapa, and cumaru, you can create a timeless yet warm atmosphere.
These tropical woods are also great for decking and cladding, so you can use several applications of hardwood in your design in a way that compliments your backyard's aesthetic.
If you're looking for a rich brown color, you can go with ipe. For a more yellow tone, garapa is the perfect choice. And, for a similar coloring to ipe but more variation, choose cumaru. To further support the pergola's charm, you can integrate greenery in the surrounding areas.
Whether that be through grass, plants, or trees, greenery can bring a warm and familial feel to your pergola. If you'd like to conserve water, you can go with more low-maintenance and water-conserving options such as succulent arrangements and artificial turf.
2. Divide the space with different surfaces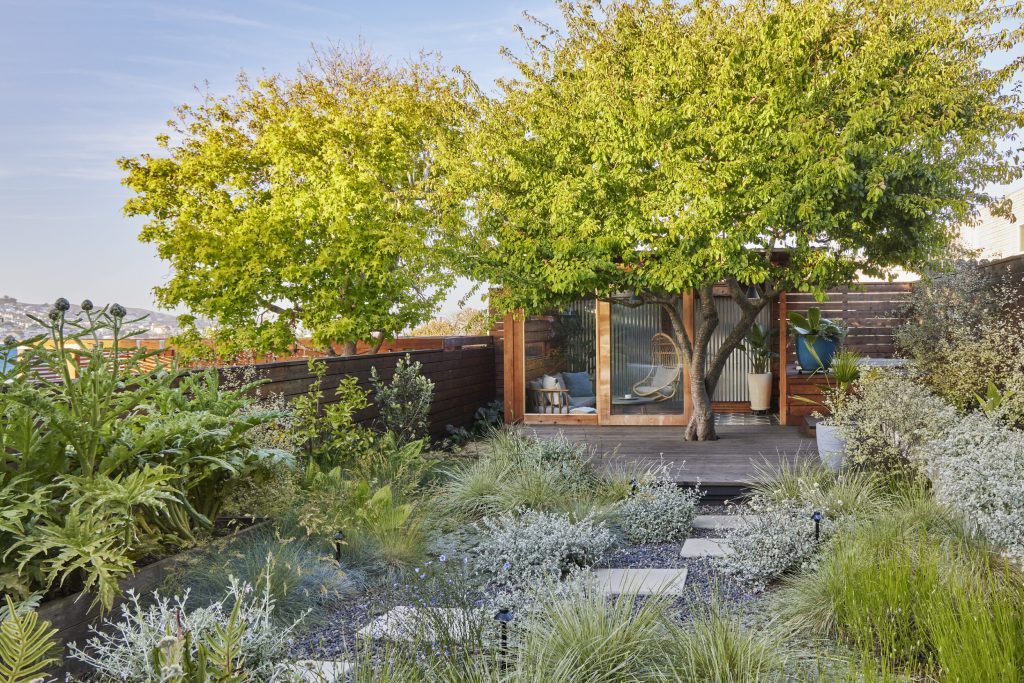 Channel the wisdom of Japanese gardens by using the division of space technique. This technique creates an illusion of a more expansive yard. To understand this idea, imagine a backyard with one type of surface (for instance, grass). Now, imagine a backyard with gravel paths, wood decking, grass, and a stone patio. Which one feels bigger to you?
For many individuals, the backyard with several surfaces (albeit smaller-sized surfaces) feels more expansive because it breaks up the monotony that a single surface can bring to an outdoor space.
Consider alternating surfaces like decking, concrete, and grass, carving out separate areas for outdoor dining, lounging, and activities.
Incorporating diverse surfaces such as not only adds visual interest but also serves practical purposes. You can designate a section of your backyard with elegant ipe decking for your outdoor dining setup, creating an inviting space for al fresco meals and gatherings.
Meanwhile, a concrete patio area offers your backyard a sleek and modern contrast, ideal for placing lounge chairs and creating a relaxing oasis for unwinding. Integrating well-maintained grass areas—either natural or artificial—within this design not only softens the landscape but also provides a safe and comfortable space for children's play or even a game of croquet.
This combination of surfaces adds depth and dimension to your outdoor space, allowing you to make the most of your compact backyard for various activities and occasions.
Incorporating thoughtful landscaping and the right mix of materials can truly optimize functionality and elevate the overall ambiance of your outdoor sanctuary, ensuring that it becomes a place of relaxation, entertainment, and natural beauty for all to enjoy.
3. Install a sauna or hot tub
When deciding what to include in a small backyard, functionality and aesthetics are the two main considerations that help maximize the use and appeal of a limited space. A sauna checks both boxes.
Saunas are versatile because they can function as a space to relax, exercise, and even meditate. Also, when designing your backyard, it is important to coordinate design and materials of different sections of the outdoor space.
Using wood in one part of your yard (such as a deck, pergola, or wall cladding), and bringing the same wood to other parts of your backyard (in this case, the sauna) can create a cohesive and visually-pleasing environment that appears more expansive to the eye.
Thermally-modified woods can be used for saunas because the heat-treatment process the wood undergoes substantially increases its durability and effectively prevents it from absorbing moisture.
Brazilian Lumber specifically sells three species of thermally-treated woods, ash, ayous, and pine, that all work great for saunas.

4. Add an outdoor shower
Another way to make your small backyard feel bigger is by incorporating an outdoor shower. An outdoor shower will not only make your backyard feel bigger by acting as a transitional zone between different areas of your backyard, but it can also boost your property's resale value.
According to a 2018 realtor.com report, an outdoor shower provides its owners with the biggest return on their investment. The study found that sellers with outdoor showers saw a 97% price-per-square-foot premium.
This clever addition blends seamlessly with the greenery and is ideal for those who appreciate the unique ability of water sounds to reduce stress and create a tranquil atmosphere in the midst of city noise.
When building an outdoor shower, consider using ipe or other tropical hardwoods because they are weather and water-resistant. Tropical hardwoods also don't splinter, rot, or get hot in the sun, so showering barefoot is always an option when it comes to tropical hardwoods.
5. Find an alternative to grass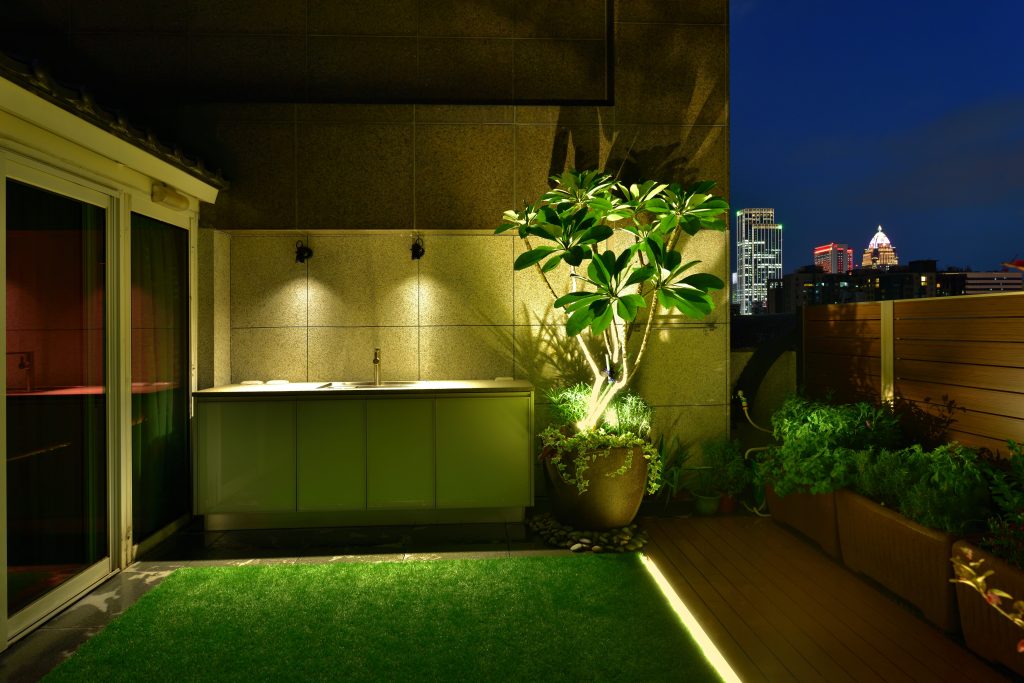 Choosing alternatives to traditional grass can be a strategic way to make your small backyard feel more spacious and inviting. Full grass yards can limit the possibilities of your outdoor space. And, heavy furniture can compress the soil underneath grass, making it more challenging for grass roots to access essential nutrients and moisture.
Over time, this can lead to grass thinning or dying off. Even in the absence of heavy furniture, the unfortunate reality is that natural grass typically demands significant maintenance. Because of this, consider utilizing wood surfaces instead.
Specifically, tropical hardwoods like ipe and cumaru are great for decking because they are weather-resistant, rot-resistant, and require low maintenance.
Tropical hardwoods also give you more freedom in the furniture you can use because they don't scratch or splinter over time.
6. Take advantage of wall space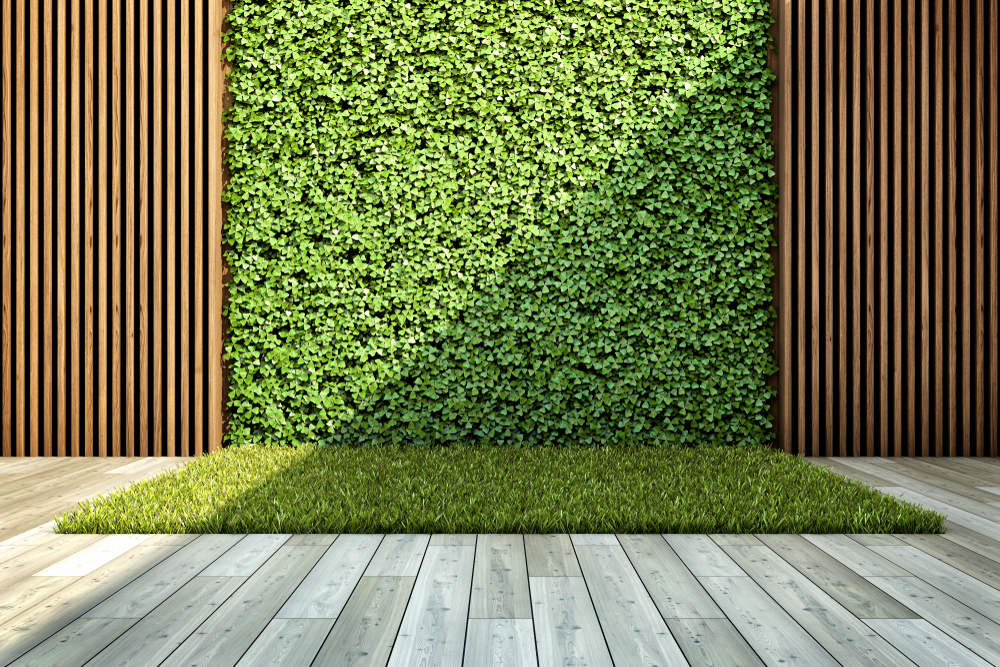 Lastly, in small backyards, it is important to think of creative ways to maximize space. One way to do so is by using wall space in your backyard through innovative design.
Wall cladding with materials like tropical hardwoods (garapa, ipe, cumaru) and composite decking (Norx) can dramatically enhance a space and bring an overall cohesiveness to your backyard.
These durable materials add sophistication to a backyard and add a contrast to the greenery, resulting in a more expansive feel. They are also very trendy right now, with many hotels and celebrity homes integrating them.
Even more exciting, you can seamlessly include plants into wall cladding. Vertical gardens are all the rage nowadays because they transform walls into living, green spaces. They not only add an eco-friendly touch to a space, but also create a warm and inviting feel to your backyard.
In all of these innovative approaches, you can find that a small backyard can actually be a canvas for creativity. By harnessing these ideas, you can make your outdoor space a sanctuary of relaxation and entertainment, proving that size is no obstacle when it comes to crafting an inviting escape.