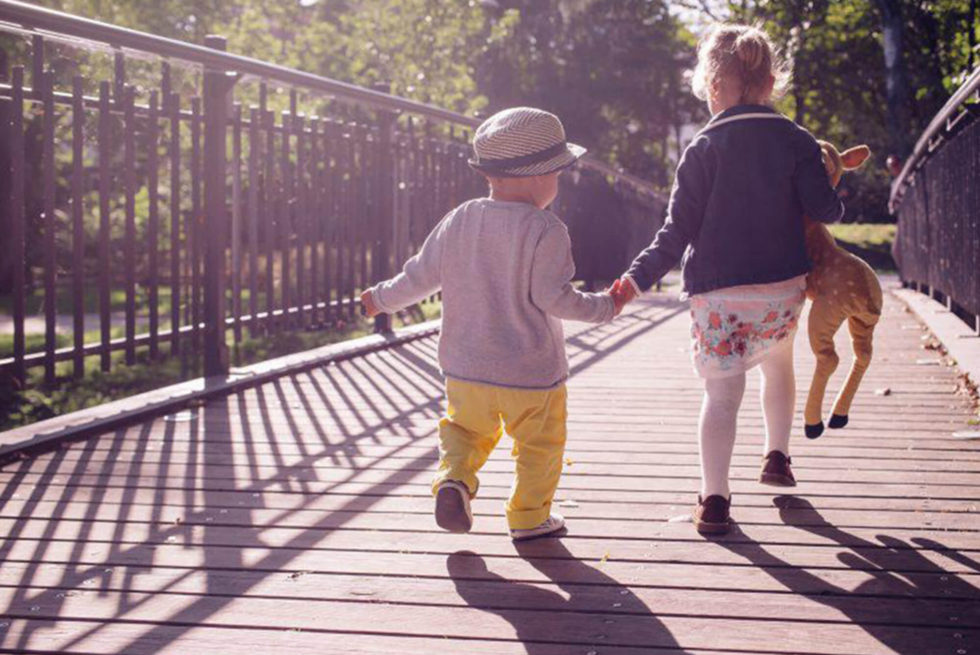 Child Safe Decks: Are Wood Decks Dangerous For Families with Kids?

Your home is your safe space. Your backyard is your oasis. You should feel comfortable knowing your kids are safe in their own backyard. The question of if wood decks are safe for children is in the back of many parents' minds—and for good reason. Many types of wood decks, such as cedar and redwood decks, can pose safety hazards for children.
Below are some of the greatest risks associated with many traditional softwood species used for decking (e.g., cedar, pine, spruce), according to MasterDecks.

What are some of the risks with softwoods used in decking?
1. Structural Instability: Decaying wood can compromise the deck's structural integrity, making it more prone to collapse or failure.
2. Splinters and Sharp Edges: Decaying wood is more likely to develop splinters and sharp edges, which can cause cuts or puncture wounds if a child comes into contact with them. Children often play barefoot or with minimal protection, increasing the risk of injury.
3. Tripping Hazards: As wood deteriorates, it may create uneven surfaces, gaps, or protruding nails, leading to tripping hazards. Children, especially younger ones, may not have the coordination to navigate these hazards safely.
4. Mold and Mildew: Decaying wood is susceptible to mold and mildew growth. Exposure to these fungi can cause respiratory issues and other health problems, particularly in children, who may be more vulnerable to environmental allergens.
5. Insect Infestations: Decaying wood attracts insects, such as termites and carpenter ants. The presence of these pests can further weaken the wood structure and create additional safety concerns.

However, there is a dangerous misconception floating around that all wood decks are prone to decay, rot, and splintering. This misconception leads many people to believe that only composite and PVC decking solutions solve the child-safety problem posed by traditional wood decks. In reality, there are some special types of natural woods that have the physical properties to endure resistance against these negative risks posed above.
In this blog, we will outline how tropical hardwood decks defy the myth of wood decks being unsafe for children. So, ready to learn about child safe decks? Take a look!
What are tropical hardwoods?
Tropical hardwoods are also known as exotic woods, and are a popular type of lumber that originate in warmer, tropical parts of the world. This type of timber is sourced from the forests of three main continents: Africa, Asia and South America. These woods are used for a range of both interior and exterior projects. Their resistance to elements, such as extreme weather conditions and decay, makes them especially great for outdoor decking and siding projects.
Some of the most common species of tropical hardwoods are ipe, cumaru, garapa, and tigerwood. These tropical woods range in density, color, patterns, and resistance to elements, as you can see in Brazilian Lumber's tropical hardwood specifications page. Ipe is the most dense out of the four, with a janka hardness rating of 3,680. The high density of these woods makes them the perfect solution for child-safe decks.

Why do higher-density woods and child-safety go hand in hand?
When woods have higher densities, like in the case of tropical hardwoods—specifically in comparison to traditional softwoods like cedar and redwoods—they are more likely to have higher resistance to weather, insects, decay, splinters, and termites.
Ipe, cumaru, garapa, and tigerwood are all strong candidates for child safe decking because of their high densities. They will not rot, and therefore splinter, like many other types of wood commonly used for decking that deteriorate after a few years. Apart from their resistance to these elements, tropical hardwoods are also safe for children because their high density allows kids and adults alike to walk on tropical hardwood decks barefoot without hurting the palms of their feet. At Brazilian Lumber, we call this the 'barefoot promise.'
Tropical hardwoods are not only the safest woods for building child safe decks, but are also the longest-lasting option, making them cost-effective, beautiful, and worry-free for parents of young kids.
Composite Decking: Innovation Meets Child Safety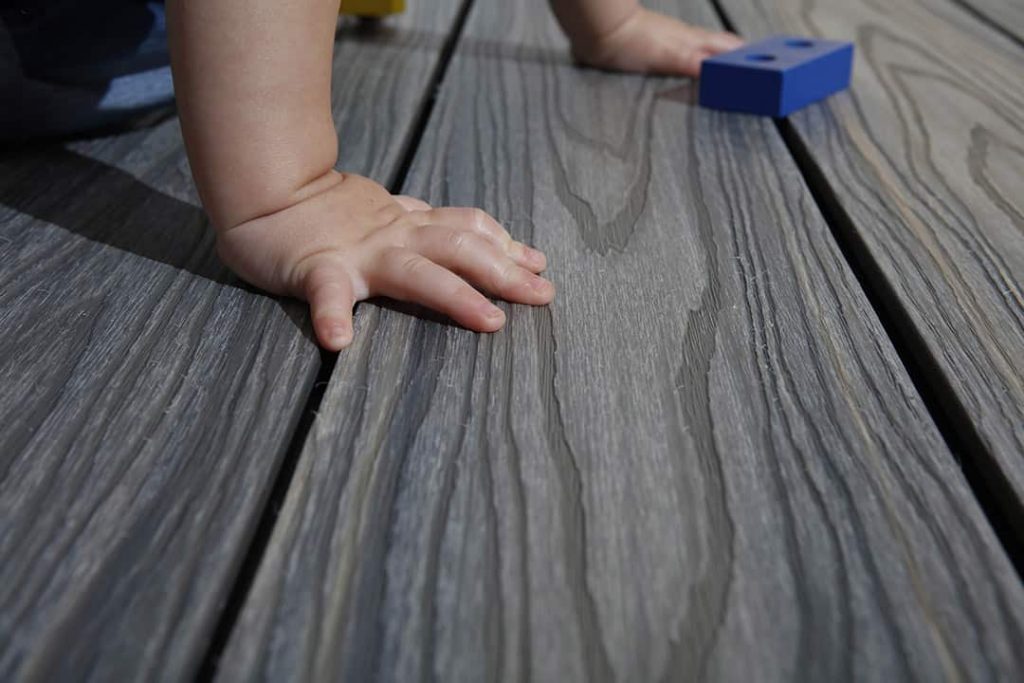 Composite materials like those from TimberTech, Deckorators, and Fiberon also solve the child-safety problem. Engineered for durability and low maintenance, these decks offer a perfect blend of aesthetics and safety.
The weather-resistant and heat-resistant properties of composite decking make them a reliable choice for families in California, a state that experiences a range of weather conditions that can negatively affect softwood decks. Each of these brands has different collections or lines, ensuring that you have a wide variety of color and design variations to choose from.

Some people may already have composite decks built in their backyard or may be more interested in building a composite deck than a natural wood deck, so for parents worried about the safety of their children in their backyard, don't fret—composite decking brands are a great way to give your backyard a similar look to that of natural woods without the burden of replacing old softwood decks every few years to keep your kids safe.
Child Safe Decks: Designing Decks with Kid Safety in Mind
Creating a child safe deck involves more than just choosing the right materials. Proper design is crucial. Consider incorporating rounded edges and railings to reduce potential hazards. Brazilian Lumber is a proud distributor of TimberTech and Deckorators, two great brands that sell high quality and beautifully-designed railings. With the right planning, your deck can be a space where children can play freely, and parents can relax without constant worry.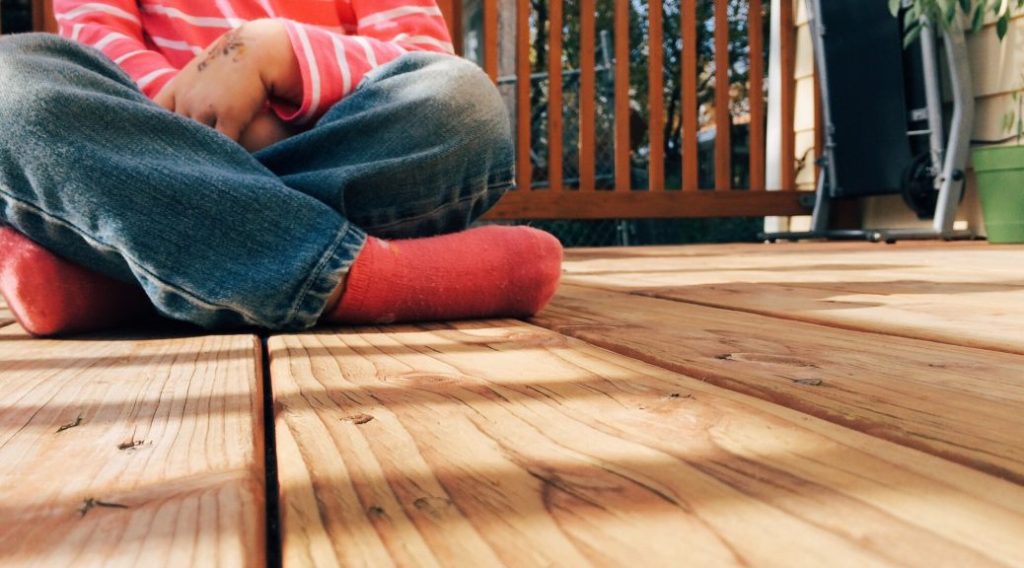 In the sunny landscapes of Los Angeles, having a child safe deck is not just a luxury but a necessity. Whether you opt for the natural beauty of tropical hardwoods like ipe, garapa, or cumaru, or the innovative features of composite decking brands like Timbertech, Deckorators, or Fiberon, creating a safe space for your children is within reach and all available at Brazilian Lumber.
Embrace the beauty of these materials, knowing that your deck will be a haven for fun and play, worry-free. Explore the world of child safe decking with us, and let's build a safer, more enjoyable outdoor experience for your family.